House Hunting in Aberdeen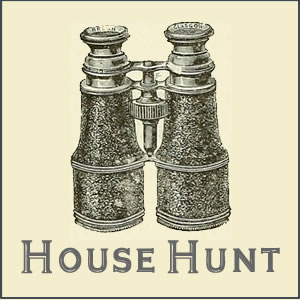 The Man of the House and I are on a search for the perfect homestead. Our qualifications are an ocean view, 3 acres or more and good soil for growing grapes and vegetables. We've had a few adventures as we've been looking for just the right place. This is one of them . . . .
TMOTH and I met Jim, the real estate agent, in the city of Aberdeen, Washington. Aberdeen used to have an economy based in the lumber and fishing industries. However both of those have fallen off in the last 10 years or so. Aberdeen looks run down and sad. There are Victorian houses that show there were better times in Aberdeen's past. There are also slums and burnt out buildings that speak to the town's present condition.
Jim was a large man in his 60's. He's been in the area for thirty years and has belonged to every fraternal organization in the county. He's been a Lion, an Elk, an Eagle and if they had the Royal Order of Groundhogs he would have joined that too. He drove a huge, blue Cadillac with very dirty windows.
Jim took TMOTH and I to see a house we'd seen on the Internet. There was some problems actually finding it, but Jim got us there in the end. The property was out in the country and very private, but not that far away from a busy road. There was constant road noise. That got it my "no" vote. While it had a view of Gray's Harbor, TMOTH either wants a more "bird's eye" view of the water or a dock. If that wasn't enough to get his "no" vote, the mosquitoes were a deciding factor.
Evidently THOTH has the sweetest, most succulent blood known to mosquito-kind. The mosquitoes were having nothing to do with Jim or myself. They were all focused on TMOTH. He was covered in bites by the time we got back in the Cadillac. It was so bad that Jim drove us to a drug store so THOTH could get some cream to help with the itching. He must have really been itching because he slathered it on. He was soon covered with the oily medicine.
Jim then said we were close to the ocean. Did we want to see it? The Man of the House and I said sure, however we were unprepared for what Jim had in mind. He turned off to go to the beach. There was a sandy "road" that lead up a sand dune. The Man of the House and I were very surprised when Jim pointed the Cadillac at the hill and revved the engine. Jim was very surprised when we bounced over a huge ditch as the Caddy roared up the dune. (TMOTH and I both saw it coming, but were too shocked to say anything.) We started attracting the attention of onlookers as we were in one of Detroit's finest when a dune buggy would have been more appropriate.
Jim got us to the top of the hill. It really was a nice site. In front of us was a beach with rolling waves coming in. Then Jim turned the Caddy around for our journey down the sand dune.
He tried to avoid the ditch this time by keeping to the side of the road. The sand wasn't as packed down over there and before we knew it we were stuck. We were up to the floorboards in sand. The Man of the House got out to push. The good news is that he got us out in short order. The bad news was that the sand stuck very nicely to his anti-itch medicine. So TMOTH was covered with bites that were covered with medicine that was encrusted with sand.
We looked at another house with Jim and then went back to his office. We looked at some property records, TMOTH got cleaned up and then we headed home.
We eventually made it home. We were exhausted and The Man of the House was itchy. But we had a great time and a house hunting adventure that we'll always remember.
Marsha Perry is the Owner and Lead Web Developer of Perry Internet Consulting. She's also the publisher of BeetleEyes.com