Puget Sound Windstorm of 2006
We knew it was coming. TV, radio, and newspapers were filled with predictions. A windstorm with gusts of up to 90 mph was going to hit the Puget Sound area the night of December 14. They were right. It was a windstorm to remember.
On December 14th I was feeling frazzled. Work was keeping me busier than ever. I was trying to get Christmas presents wrapped and holiday cards sent. In addition to everything else now there was going to be a windstorm. Great! Just great!
I thought we might lose power so I was sure to make a batch of granola cereal. I wanted to make sure that we'd have something to eat for breakfast the next day. That was the extent of my storm preparation.
When I went to bed at 10:00 the wind was gusting and rain was falling in sheets. The Man of the House (TMOTH) came to bed at midnight. We still had power and I could tell that the wind gusts had kicked up a notch or two. I woke up again at 2:00 in the morning. No power. I groped for my bathrobe and padded out into the living room. The sound stopped me at the edge of the room. It was as though the house was Dorothy's house in The Wizard of Oz. The wind was no longer gusting; it seemed to be swirling around the house. The noise came from all directions at once. And it was loud, very loud. I quickly scurried back to bed.
Day One Without Power – Friday
We got up to a cold house the next morning. I found my AM radio and listened to the news reports. There were more than a million households without power in the Seattle area. It could be days until power was restored. In the meantime nighttime temperatures were predicted to dip below freezing.
We took a quick look around outside and discovered that the house and yard made it through unscathed. The backyard fence had blown down. But it had blown down before in lesser storms so that was to be expected. We were lucky. The fence was the worst of the storm damage. Other people lost their homes. We were very lucky.
TMOTH confirmed that our gas water heater was still functional. So that meant we would have hot water for the duration.
For our morning caffeine fix I took coffee beans and chopped them in the onion chopper. I added them along with the tap's hottest water to our French press coffee maker. It was only lukewarm but it was coffee. So we ate granola, drank tepid coffee and figured our next move.
We'd been thawing some burger for a casserole that night. So we decided it looked like a good night for burgers on the barbeque. TMOTH might get cold as he barbequed but we'd have something warm to eat. But we needed hamburger buns. So breakfast we set off in search of hamburger buns and got our first look at our neighborhood post windstorm.
I realized for the first time that I was running low on gas in my Honda. Luckily TMOTH's car had a full tank of gas. However his car was in the garage, the garage with the electric doors. TMOTH was able to work the doors manually and got the car out.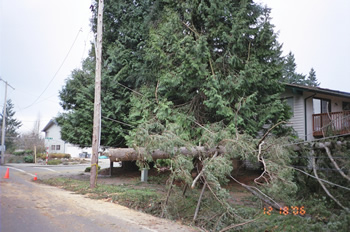 We took a circular route of about 5 miles in total. We didn't see any electric lights anywhere. We did see downed trees crushing fences, laying across roofs and blocking roads. We didn't see a single working traffic light or open store.
Just a few blocks away from home we saw a family walking along the sidewalk. The mother was carrying a shopping bag. It was from 7-Eleven. That was just a block away. We pulled into the parking lot and it was totally dark inside. But there was a brown paper shopping bag posted in the window. On it the words "Open "Cash Only" were written in black pen.
I knew I didn't have much cash. I'd been to Starbuck's a few days ago and bought a latte. I'd used my last five-dollar bill for that. As luck would have it TMOTH had cash. Inside the clerk was using a battery-powered calculator to figure his customer's sales. We got his last package of hamburger buns.
During the day we tried to ignore the temperature in house. I made the bed and wrote Christmas cards. TMOTH got caught up on the newspaper from the day before.
Later in the day we took another trip in the car to check out the storm damage. To be honest I also wanted to get warm. The temperature in the house was about 58 degrees. This time we went south instead of north. No working traffic lights. More snapped trees. This time though we did find a grocery store that was running on a generator. We bought a few more supplies and headed home.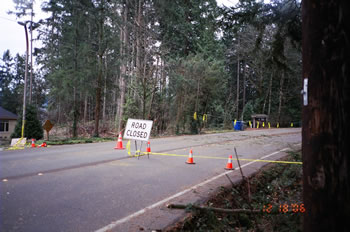 We began to think about the items in the refrigerator and freezer. The freezer was fully stocked with the items from the monthly runs to Costco and Sam's Club. A fully packed freezer does better without power than a partially packed freezer. So that was good. There was nothing to do but keep the door closed and hope for the best.
The refrigerator was another matter. We'd only opened it a few times since the power went out. But the power had been out for a little more than 6 hours. That's about the dividing line between things being OK and things getting too warm. The temperature outside was in the low forties. That's about the temperature it should be inside a running refrigerator. So we put our refrigerator items in closed containers to keep out the raccoons. Then we stacked the containers outside on the back porch. We didn't have enough containers for everything but we were able to transfer most of our items outside.
As it began to grow dark we gathered our candles and flashlights on the table. We wanted to be able to find them easily after dark. I also added my trusty multi-band radio
to the pile.
Then TMOTH fired up the barbeque grill. The hamburgers were delicious! Then we looked around our dark house and wondered what we were going to do with ourselves. It was about 5:30. It was totally dark outside. Inside it was chilly and while we had light it was obvious that candlepower is not as powerful as good ol' electric lights.
Initially I read A Christmas Carol out loud to TMOTH. Later we used the multi-band radio
to listen to Ghost Whisperer on TV. It wasn't the same as watching the show but it felt good to do something relatively normal.
At 9:30 we went to bed. I hadn't been to bed that early in ages. But it was dark and cold. We went to bed with the thought that maybe the power would come back on during the night.
Day Two Without Power – Saturday
The next morning there was still no power. News reports on the radio said that the infrastructure of the power system had been badly damaged. Power was still days away. I was so surprised. We live in a large city not the country. How could this happen? But it was happening so there was nothing to do but deal with it.
We ate granola, drank lukewarm coffee, showered and dressed. When I say dressed I mean two shirts, a vest and two sweatshirts. All of this topped off by my lovely knit hat. While I was far from a vision of loveliness at least I was moderately warm.
We took another car trip to the north. This time we noticed that some areas with power. I'd never been so happy to see a working traffic light. It was a sign that progress was being made!
We had a simple but satisfying lunch of hard cheese that we'd saved by moving outside along with a sausage log from Hickory Farm. I never realized how practical those sausage logs were before. They don't need to be refrigerated until after they're open. They're really handy.
After lunch we took another look at the items in the refrigerator that we hadn't moved outside. They were bad. So we threw them out and made use of the situation by cleaning the refrigerator. Luckily the temperature outside was in the low forties so the food in the containers was still fine.
We did some reading. I did some more housecleaning.
For dinner we decided to go out. The day before we'd noticed a sandwich shop to the south of us that had power. So we headed out. A grilled ham and cheese sub really hit the spot! We noticed a coffee shop next to the sandwich shop. The coffee shop had WiFi and virtually every table was filled with someone typing away on their laptop. It really brought home to use how much we relied on our computers and just how much we missed them.
As we drove back home I noticed again that there were some areas where the power had been repaired. There was definitely room for hope.
The weather reports on the AM radio station were predicting that the overnight temperatures were going to dip into the mid twenties. It made me wonder at what point a person could freeze to death in their home. While the temperature in the house was remaining twenty degrees above the temperature outside things were still getting pretty cold. TMOTH and I discussed the situation and decided we'd be OK.
That night I read another chapter of A Christmas Carol out loud to TMOTH. Then we found a jazz channel on the radio. Listening to the radio by candlelight was almost romantic, aside from the five layers of clothing and chilly temperatures.
I went to bed that night hoping that power would be restored during the night and we'd wake up to the friendly sound of our working furnace.
Day Three – Sunday
I woke up Sunday morning and quickly looked at the electric clock. Nothing. Power had not been restored during the night. I got up, put on my many layers of clothing and made my way to the thermostat. It was forty-five degrees in the house. Forty-five degrees!
I didn't know how I was going to make it through another day of shivering in my own home. We were going to have to do something. I'd heard on the radio that it was hard to find hotel rooms but we'd have to try. Go through another day without heat? I wasn't going to make it!
At that point TMOTH pointed out that he heard something. He heard the long-awaited-for sound of our furnace. The power was back on. We'd been out from about 2:00 am on Friday until 9:30 am on Sunday. We were very lucky. Some people were without power for a week. Some people's homes were severely damaged by the storm. Some people even died in the storm or later by the improper use of generators while they were trying to stay warm.
Lessons Learned
In the next several weeks I'll be writing about the things that did and didn't work for us during the Puget Sound Windstorm of 2006.