One of my friends had a question after reading yesterday's post.  "How do you make corn dogs in that shape?"
My best friend gave me a GT Xpress 101 last Christmas.  Since then I've read reviews about them on the web.  It seems like one of those things that people either love or hate.  I really love mine and it's what I used to make the corn dogs.
It's kind of like a waffle iron.  Except when you open it up you see two wells instead of a waffle grid.  There are wells in the top AND the bottom of the cooker.  And the device heats from the top and the bottom so it's perfect for cooking eggs, muffins and corn dogs.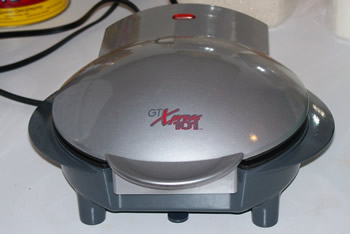 The recipe that came with it said to use hotdogs and corn bread mix.  After making a few test batches I changed the recipe so that I used homemade corn bread batter.  I also used fully cooked sausages instead of hotdogs.  In order to make the sausages work with the wells in the cooker I sliced them up.