Yesterday was a big day.
The Man of the House planted tomatoes. While many of our tomatoes will end up in tomato wine TMOTH has promised to let me eat a few too.
We had the first salad of the year using lettuce from our garden. I even put in a few chives.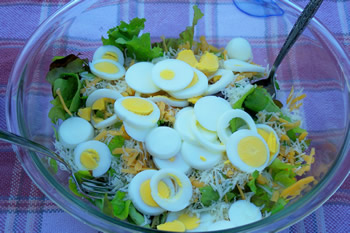 We ate dinner on the back patio for the first time this year. The temperature was just right. The sky was a beautiful blue. Birds chirped from the bushes. The bees left us alone. Nirvana!
Later I made a batch of granola. TMOTH will make our monthly Costco run tomorrow. I'm glad as I used the last of the oats and raisins for the granola.