Last weekend I made cherry liqueur. The recipe I used is from Cordials from Your Kitchen
. (If you're looking to get started making liqueurs this is a great book. It has loads of recipes and easy to follow instructions.)
Cherry Liqueur Recipe
2 cups sugar
1 cup water
1 1/2 pounds fresh cherries with pits, stemmed and washed
2 1/2 cups 100-proof vodka
1 cup brandy
1 teaspoon lemon zest
1 tablespoon fruit protector
Bring the sugar and water to boil over a medium-high heat. Stir constantly to prevent scorching. When you're done the liquid should be clear. You've just made something called simple syrup. This is used as a base in many liqueur recipes. Put this aside and let it cool until it's just warm.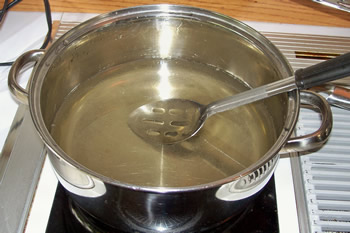 You might look at this photo and think, "That looks like a whole lot more than the recipe calls for." You're right. I made a regular batch last year and it turned out really well. This year Erroll was very concerned that a single batch wouldn't be enough. So I made a triple batch.
Cut the cherries in half but don't take out the pits. Put the cherries (and their pits) into a 2-quart container that has a tight-fitting lid. Pour the simple syrup (once it's cooled down to just warm) over the cherries and add the rest of the ingredients. Give it a good stir and then cover.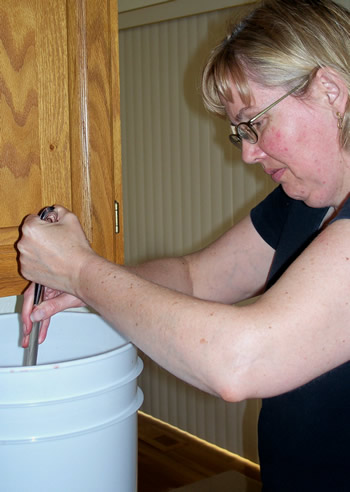 Put it in a cool dark place for two weeks. (Mine is going in the wine closet.) Give it a good shake once in awhile during the two weeks so that things don't clump together.
After two weeks use a fine-mesh strainer to get the solids out. (Were you worried the pits were going to stay in there forever?) Discard the solids. Transfer the liquid into a clean container. Cover and let stand for another 2 or 3 weeks.
Rack or filter the liqueur into its final container. (We're going to use clean wine bottles.) You should get about 1 1/2 quarts of liqueur.
Here's the entire series of articles – Cherry Liqueur in Three Steps: