Cherry Liqueur – Part Three
Yesterday Erroll and finished processing our Cherry Liqueur. It had been sitting in the wine closet for two weeks. The final step was to siphon it into a bottling bucket . . .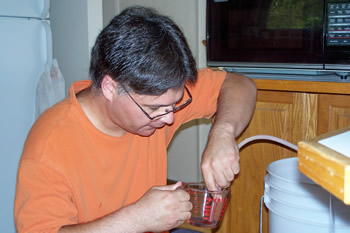 and then put it into bottles. We made a triple batch so we ended up with one gallon of cherry liqueur. That's enough to fill five wine bottles.
Part of the reason we siphoned it was to separate the liqueur from any sediment at the bottom of the jug. We were happily surprised to see no sediment at all. So in our case the siphoning just moved the liqueur out of the jug and into the bottling bucket.
And how did it taste? It was very good!!!! I made cherry liqueur once before and I liked it but this is better. I plan on making another batch next year.
See the Whole Process – Cherry Liqueur in Three Steps: