Later today The Man of the House is going to fire up the grill and we're going to have some lovely hamburgers. In preparation I made a batch of hamburger buns.
I used the dough setting of Zojirushi Bread Machine
.
Hamburger Buns
1 – 1/2 Cups water
1 – 1/2 Tablespoons olive oil
3 – 3/4 Cups bread flour
1 – 1/2 Tablespoons sugar
1 – 1/2 teaspoons salt
1 – 1/2 teaspoons active bread yeast
When the dough is done put it on a lightly floured board and divide in half. The goal is to get 7 to 8 hamburger buns of appropriate size and shape. (To be honest getting the buns the correct size is a challenge for me. I usually end up with at least one giant-sized bun.) When you've got the buns the right size and shape put them on a greased cookie sheet. Remember not to put them too close together as they'll get larger as they cook.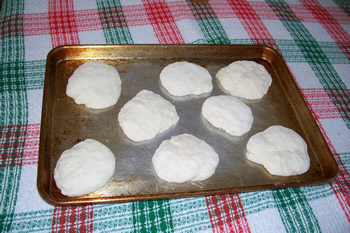 Cover the buns with a clean, light-weight kitchen towel and let the buns rise for half an hour. Then remove the towel and put the buns in a 400 degree oven for 15 to 20 minutes.
Move the cooked buns to a rack to cool.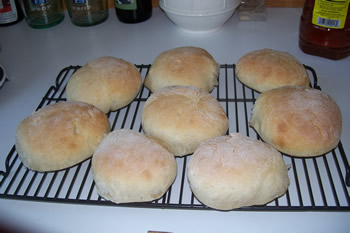 Some store-bought buns get mushy and fall apart when you've added the burger and the condiments. These buns will hold everything in place and are still nice and soft.
I hope everyone has a great Labor Day!