Harvesting and Eating Egyptian Walking Onions
In my reading about Egyptian Walking Onions I've discovered that people use them in three different ways. They:
eat the stalks – Use them as you would green onions or scallions.
eat the bulblets – This is the topknot of the walking onion. Be sure to save some to replant.
eat the bulb – This method usually comes with the warning, "Watch out because these onions are strong!"
The time finally came for us to bite the bullet or in this case the bulb. The bulbs are small, about the size of a large green onion. I started out cautiously by putting them in roasting chickens.  That worked well.
Then we pulled this huge onion out of an area of our garden called "the pit".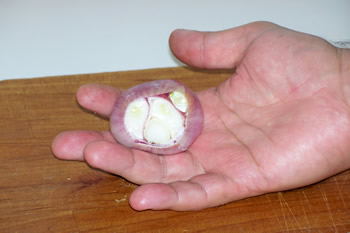 The pit is so named because we put a lot of work into this gardening bed. We dug down about four feet and screened out all the rocks before we put the dirt back in. It's our most intense garden project to date. We're not sure if the above onion is an anomaly or if it got that big because the pit is a prime garden area.
At any rate, it was time to take the harvesting of the onions to the next level.  We chopped this bad boy up and had it with our Labor Day hamburgers. The Man of the House says it gave off a lot of fumes while he was chopping it but that was the worst of it. It tasted just fine. The taste was a little stronger than a yellow onion but it wasn't bad at all. In fact, it was quite tasty! 🙂