Recently The Man of the House and I went to the Western Washington State Fair in Puyallup. I loved it! If we had the time and money I'd like to get a hotel room and spend a couple of days going to the fair. There's a lot to see and do.
We spent time at hobby hall looking at people's collections. One family in the area collects and restores World War II jeeps! They had two jeeps on display. I also enjoyed the collection of Hershey chocolate tins. I never realized that there were so many decorative tins just issued by the Hershey company.
We also looked at the crafts. The scrapbooking display was very interesting. They looked so professional! Some of them seemed more like arty magazine articles because they were so nicely done. I also enjoyed the Christmas tree decorating competition. One of the entrants decorated their tree with copies of family photos. The photos were mounted on heavy paper and there was a sparkly material around the edge to act as a frame. What a great idea for putting the focus of Christmas back on family.
We spent a lot of time looking at the photography exhibit. There were some people there from a photography group that TMOTH might join. The photographs were taken by people from all over the world. In some ways it was like looking through an issue of National Geographic. The photos showed life and nature from around the globe.
There was so much to see. We looked at the display for the annual wine competition. (The Man of the House needs to enter that next year.) Then there were the onion hamburgers for lunch. We watched our fellow fair goers. We salivated over the display at the Kubota dealer. We saw chain saw artists in action. The displays by the county grange organizations are always impressive. Like I said there was a lot to see!
Here are just a couple of glimpses of life at the Western Washington State Fair:
The giant pumpkin carving competition: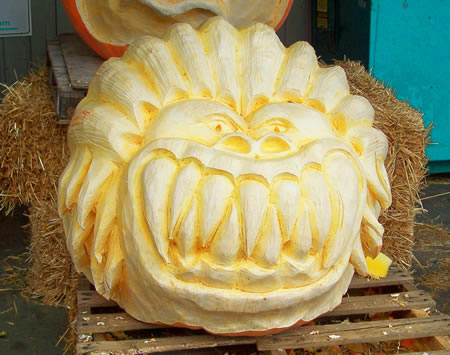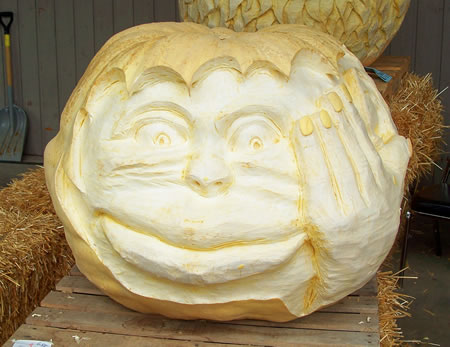 The Toyota company had a track built just outside the fair grounds. The track had a huge hill, steep berms and other obstacles. We signed up and TMOTH piloted us around the track in a Tundra pickup. While I do believe in saving fuel, Biodiesel and high gas mileage I've got to admit that I have a weak spot for V8 engines. It was quite a ride and what's a fair without rides?