The tomato harvest began about a month ago. The Man of the House has been harvesting and freezing tomatoes in preparation for making tomato wine. It became clear that the freezer area of our refrigerator was not going to be sufficient to store everything. It was time to get a freezer.
When I was growing up The Folks always had two big freezers in the garage. They were handy for storing a deer or two during hunting season. The freezers also held the occasional half a cow purchased from the butcher shop. So I envisioned buying a full-sized freezer. However reading Buying a Freezer from Demense.info put me on the right track. We don't hunt so our chances of having to store a deer are slim to none. We've also never bought half a cow, half a pig or half a meat-producing animal of any sort. Perhaps we didn't need a freezer as large as I'd envisioned.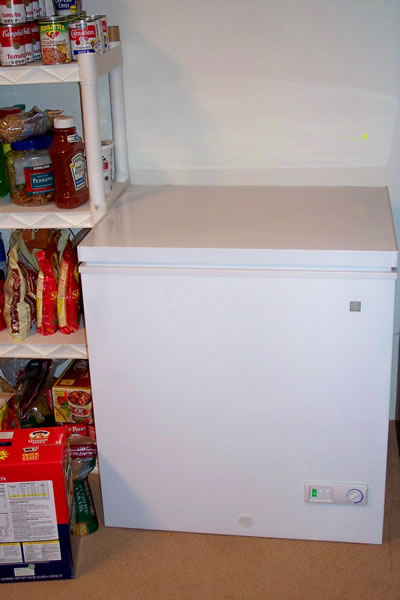 This is what we bought and I'm quite happy with it. We got it at Sam's Club for under $150. It has a 5 cubic feet storage capacity and it fit nicely into the pantry area of our basement. The Man of the House is already putting it to use with the tomato and rhubarb harvest.