Once a month the Man of the House makes us pizza for supper. Last night was our October pizza night.
He started out by making dough in the Zojirushi Bread Machine. Then he rolled the dough out and put it on two of our extra large cookie sheets. He brushed the dough with olive oil to seal it. Then he added tomato sauce and sliced Roma tomatoes from the garden. He sprinkled on diced red peppers, garlic and onion. (All of those were from our garden too.) Next came the pepperoni.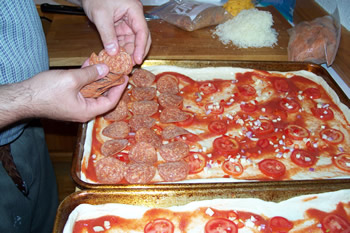 The cheese layer came next. TMOTH added sliced mozzarella, grated Romano and grated cheddar. Then he baked them for 25 minutes at 400 degrees. It was as yummy as it looks.