Last weekend we had guests for dinner. In honor of the event I made dinner rolls using the dough setting of Zojirushi Bread Machine
. I used the same recipe that I used when I made hamburger buns for Labor Day.
Dinner Rolls
1 – 1/2 Cups water
1 – 1/2 Tablespoons olive oil
3 – 3/4 Cups bread flour
1 – 1/2 Tablespoons sugar
1 – 1/2 teaspoons salt
1 – 1/2 teaspoons active bread yeast
When the dough is done put it on a lightly floured board and divide in half. The goal is to get about 20 dinner rolls of the appropriate size and shape. This is still the hardest part for me. I was pleased with this batch and consider it my best effort to date.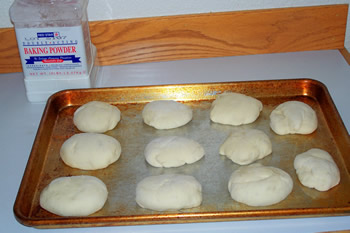 Here they are on a greased cookie sheet. Remember not to put them too close together as they'll get larger as they cook. BTW – the baking powder isn't used in the dinner rolls it just happened to be sitting on the counter. 🙂

Cover the rolls with a clean, light-weight kitchen towel and let the rolls rise for half an hour. Then remove the towel and put the rolls in a 400 degree oven for 15 to 20 minutes.
Move the cooked rolls to a rack to cool.