Ten Websites I Can't Live Without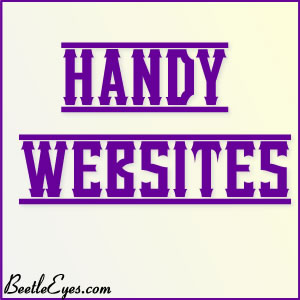 Google – What did people do before Google? I must go there ten times a day at least! I love how zippy Google is in returning the search results. I use it to research HTML code. I use it as a spell checker. I look up obscure things I've read about. I use it to find quotes. What can I say? I love Google.
WordPress – This is a WordPress blog. As a website developer I help other customers with their WordPress blogs. All of this adds up to the fact that I'm a big fan of WordPress. I go to the site to look at the forums, look for themes and to see what's new in the world of plugins. (Plugins are small programs that you "plug in" to WordPress to help it send forms, sell things or deal with spam. They're just like Tinker Toys for website developers.)
MapQuest – I never drive anywhere new without a map from MapQuest. I get a little panicky at the very notion of being out and about without MapQuest's navigational assistance.
Internet Movie Database – Are you ever stumped for the name of an actor in a TV show? Do you ever wonder what movies or TV shows your favorite actress is working on? Do you ever watch a show and know that you've seen that person on another show but can't remember which one? All these questions and many more can be answered at the Internet Movie Database.
ABC News – I admit it. I'm a news junkie. I look at ABC News about four times a day. If something is going on in the world I want to know about it!
The New York Times – Did I mention that I'm a news junkie? With a free registration you can have the New York Times email you daily news headlines. I get one every morning and read it while I'm drinking my coffee.
Confessions of a Pioneer Woman – Technically this one is a blog, but what does it really matter? What matters is that after reading all that news I need a break. When I need a break I visit Pioneer Woman and see what's going on in her bawdy, hilarious world.
People – If I still need to recover from all that "hard" news then I take in some of the soft news at People.
Amazon.com
– As a woman with three literary websites (check out the listing of "Our Other Sites" on the menu on the left) you can bet that I love to read! I also like to read book reviews. When I read about a book that looks good I go straight to Amazon and add it to my wish list. I print out a copy of my wish list and carry it with me. That way when I go to a used book store I can look for the books on my list. Yep, I'm literary and thrifty all at once.
Weather Underground – There are other weather websites out there, but I like Weather Underground the best. The pages are fast to load and have a lot of extra information like moon phases and twilight times.