Super Bowl Food Continued
We've started assembling the ingredients for the Mighty Super Bowl Sandwich. The sandwich will be made of rosemary bread, salami and this . . . .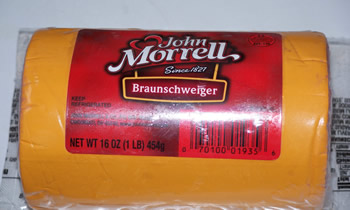 What is Braunschweiger you ask?  (To be honest, I asked The Man of the House that question too.)  I was informed that it's a variety of liverwurst and is an integral part of the Mighty Super Bowl Sandwich.
Now that we've broken with tradition and changed the bread there's even talk about going totally wild and creating an open-faced sandwich.  This would use the aforementioned meats as well as spaghetti sauce.
Will the craziness never end?