Slow Cooker Spaghetti Sauce
As promised here's the recipe for slow cooker spaghetti sauce.
Add the following to slow cooker and cook on high for 6 hours. I like to take the cover off during the last hour to help thicken the sauce :
1 large onion, chopped
4 (14 ½ ounce) cans Italian-style tomatoes – chopped and undrained
1 (15 ounce) can tomato sauce
1 (12 ounce) can tomato paste
3 teaspoons dried basil
3 teaspoons dried oregano
1 teaspoon garlic powder
1 teaspoon salt
This will make the equivalent of about four jars of spaghetti sauce. We put the extra sauce in jars and store in the refrigerator. We're careful to use the sauce within two weeks.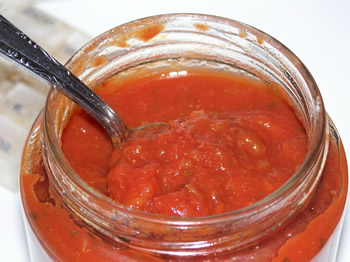 Variations:
The last time I made this I added one teaspoon of Sambal to the sauce. It gave it a nice flavor without being too hot.  Feel free to add a modest amount of your favorite hot sauce.