Bread Pudding – The Perfect Saturday Morning
Earlier I described my perfect Saturday morning. It was a wonderful, blissful, relaxing time when The Man of the House cooked us a special breakfast while I got an extra hour (or two) of sleep.
Today TMOTH got to sleep in and wake up to bread pudding fresh out of the oven.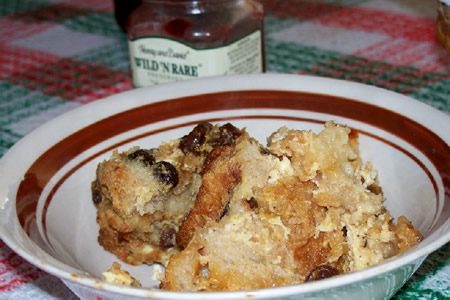 Bread Pudding
8 cups torn/crumbled bread
3 cups milk
½ cup packed brown sugar
½ cup raisins
¼ cup butter
1 t vanilla
¼ t salt
¼ t nutmeg
3 eggs
1 – Start out by putting the milk, sugar, raisins, butter, vanilla, salt and nutmeg in a saucepan. Set the temperature on low and let it slowly warm while you deal with the rest of the preparation. The goal is to have the milk just start to boil (and not burn) by step 4.
2 – Take a small square pan and put tap water in it until you've got about an inch of water. Put the water-filled pan on the lower oven rack. Set the oven at 350 degrees. The water and the temperature will create a nice steamy environment for the pudding.
3 – Grease a 2 quart baking or casserole dish. Put the crumbled bread into the baking or casserole dish.
As an aside let me mention that this is a great way to use up extra bread. We save all of our bread heals in the freezer until we have enough for a batch of bread pudding.
4 – Beat the eggs gently in a medium bowl. Now we turn back to the cooking milk mixture. Ideally it will be just starting to gently boil. (Keep an eye on it so it doesn't burn at the bottom. ) Once you see a few bubbles take it off the heat and add a few tablespoons of the mild mixture into the eggs and stir it around. Then add the egg mixture to the milk.
5 – Pour the milk and eggs over the bread. Gently stir to distribute the raisins and make sure that all the bread gets wet. Open the oven (brace yourself for the steam) and put the pudding on the upper rack. Cook for one hour.
When you serve you can top this with honey, jam, cream or any combination that turns this dish into part of YOUR perfect morning.