We usually have fish tacos on Monday nights. It's a nice way to start out the week. We also really like it in the summer with fresh cabbage.
Fish Tacos
8 soft taco sized tortillas
8 fish sticks
2 Cups shredded cabbage
1/4 Cup mayonnaise
1 Cup shredded cheddar cheese
1/3 Cup onion – finely diced
1 Tablespoon vinegar
salt and pepper – to taste
1/4 Cup salsa
1 – Start by cooking the fish sticks as directed on the package.
2 – While the fish is cooking mix up the rest of the ingredients (except the tortillas) together. The result will look something like coleslaw.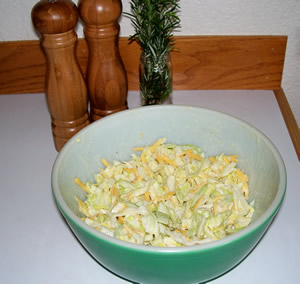 3 – Warm the tortillas on the stove. I get out the large fry pan and turn the heat to medium. Then I cook each side of the tortilla for about 5 seconds. This makes the tortillas much more pliable.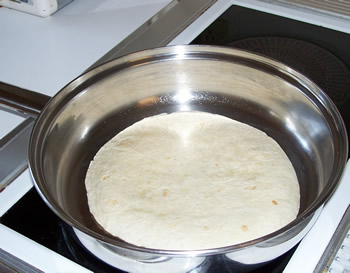 4 – When the fish are done and the tortillas are warm it's time to assemble the fish tacos. Place a couple of tablespoons of the cabbage mix and a fish stick on a tortilla.
If you know how to roll the tacos up then just go ahead. This recipe makes eight fish tacos.
If you haven't dealt with folding tortillas before then just follow along. I'll show you how it's done.
You place the ingredients on the tortilla.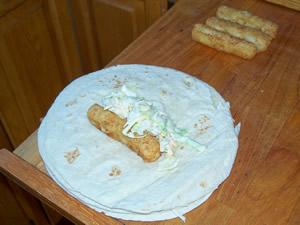 The next step is to roll up the sides.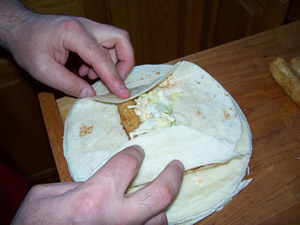 Then bring the end closest to you up and over the top.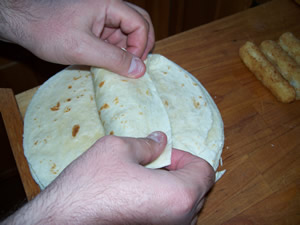 Tuck the flap under and start to roll away from you.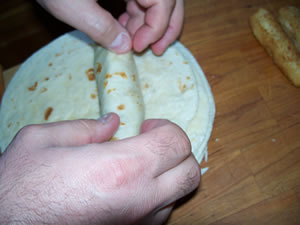 And then you're done!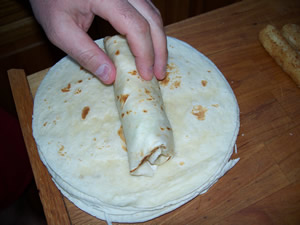 Variations: If you don't have salsa you can substitute a small amount of chili sauce or chili paste. We use a tiny amount of Sambal.