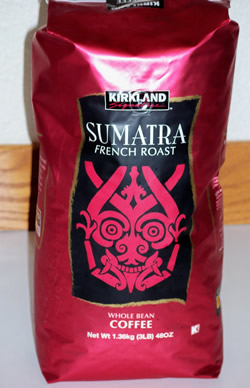 I suffer from sticker shock every time I buy coffee.  It's expensive.  It's a luxury. But my morning isn't complete without a couple of cups of joe.
To add to the problem we're coffee snobs.  Instant coffee isn't for us.  We like to grind the beans every morning.  I wake up to the happy sound of the coffee grinder followed by the lovely aroma of brewing coffee.
We've shopped around and the best buy that we've found is the house brand at Costco.  Kirkland Signature coffee beans were $4 a pound the last time we went shopping.  The price is right and the coffee is great.
I've looked into roasting my own green coffee beans at home with a popcorn popper.   (Yes, I 'm totally serious.  I know someone who has done this and swears by it.) I think it would be fun but I don't see that it would be any less expensive that what I'm paying now.  Plus I'd need to find time to do the roasting.  So for now I think I'll stick with Kirkland Signature coffee at Costco.