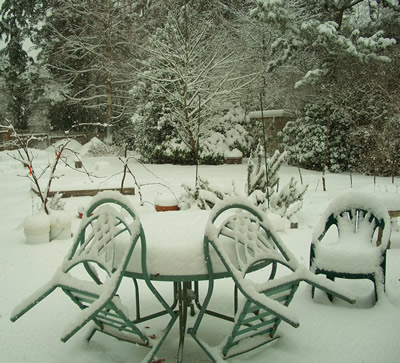 We got seven inches of snow on Thursday morning.  That combined with the chilly temperatures is certainly putting a crimp in my Christmas plans.  It's hard to work on the Christmas shopping when I can't leave the house!
One good thing that came out of this was that a neighbor hosted a Snow Day Get Together.  We congregated at her house bringing whatever muchies we had available.  Since the roads were impassable it made sense to stop and enjoy the moment.
I'm very glad that we did have that nice afternoon because the weather forecasters say the worst is yet to come.
Forecasters say it is virtually certain to topple trees and produce power outages in some areas, particularly in east King and Snohomish counties, where sustained winds of 50 to 70 mph are projected.

"People need to figure out, 'How will I heat my home safely if the power is out for a few days?' " said Andy Haner of the Weather Service.
This brings very scary thoughts of the wind storm of 2006.  Tomorrow the Man of the House and I are going to go through our supplies.  Then we're going to jump in the Honda and inch over the ice to the nearest store for supplies.
If I don't post on Monday you'll know the power went down.