As I'm sure you know, last weekend was the Super Bowl.  Those of you who read this blog regularly know that the Super Bowl is near and dear to the heart of the Man of the house.  This year's Mighty Super Bowl Sandwich featured summer sausage and liverwurst on cheese and onion bread.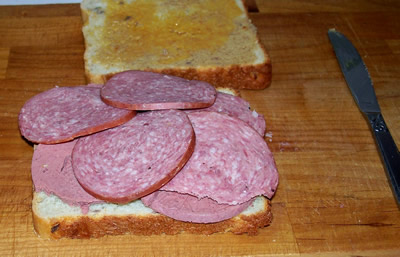 The bread may change, types of sausage may come and go, but liverwurst is essential for the Mighty Super Bowl Sandwich.
I also made a cheese ball for the first time ever.  More about that next Monday. In the meantime, here's a sneak peek at my fabulous work of cream cheese.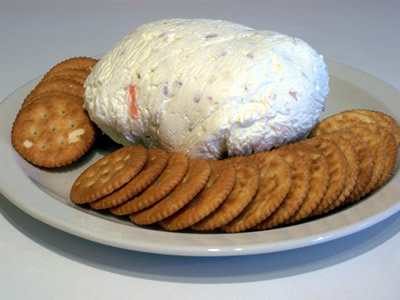 For now, I want to let you know about a sweet deal that the Man of the House learned about while watching the Super Bowl.  The nice folks at Denny's have gone temporarily insane and they've invited us all over for one of their Gand Slam breakfasts.  I'm not kidding!  The offer is only for tomorrow and is from 6:00 am to 2:00 pm.