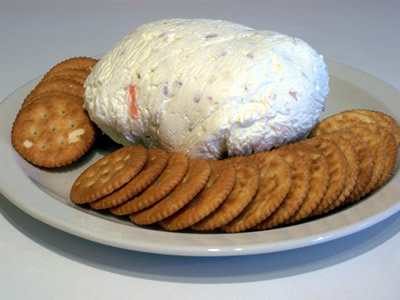 I made my first cheese ball for the big Super Bowl Feast.  It turned out rather well and we expect that future celebrations will include cheese balls.
Veggie Cheese Ball
2 – eight ounce packages of cream cheese, softened
1/3 Cup grated Parmesan cheese
1/4 cup mayonnaise
2 Tablespoons minced onions
2 Tablespoons minced garlic
2 Tablespoons grated carrots
2 Tablespoons finely chopped celery
1 teaspoon horseradish
1/2 teaspoon salt
Put everything in a large bowl and blend with mixer.
Place a large piece of plastic wrap on the counter.  Empty the mixture into the middle of the plastic wrap.  Bring up the edges of the wrap and form the mixture into a ball.  Then place the ball in a small bowl to help it hold its shape.  Refrigerate for at least an hour.