One of my cousins asked how my Bunny Bread had turned out.  This is such a busy week for us that I won't be able to try out the recipe until Easter Sunday.  We're having a family dinner on Saturday, so Sunday will be a quiet affair.  Easter dinner will be Bunny Bread and vegetable soup.  Let's hope the bread turns out!  I'll let you know on Monday.
Speaking of bread, we get all of the flour for our bread at Costco.  Costco sells it in 20 50 pound bags.  (Flour procurement is a job for the Man of the House as I'm not sure I could manage such a heavy, unwieldy item.) While we love our bread, it does take us months to go through the entire 50 20 pounds.  So what do we do in the meantime?
(Note:  The Man of the House pointed out that even I could lift 20 pounds.  The reason I can't do anything with the flour bags is because they're 50 pounds!)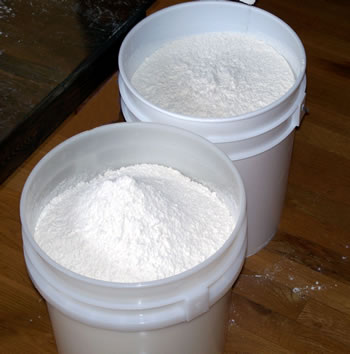 It fits into two five-gallon buckets with no problem.  These are food grade buckets that store the flour with no loss of quality that we've noticed.