Or rather, we're going to hold on to our hats.  There's a high wind watch in our area through tomorrow night.  We've had high wind watches in Bellevue.  We even made it through the intense windstorm of 2006.  What's different now that we live in the country.
What I Worry About More:
Lack of Communication – Back at Halloween I was dismayed at the lack of information we have here. There's no local radio station.  The local newspaper has a website, but it's not that robust.   We're really cut off in terms of getting current information about the area.
Lack of Familiarity – We knew our way around Bellevue.  We knew alternate routes, the location of a dozen grocery stores and loads of gas stations.  We've been here a couple of months, but there's still a lot we don't know.
Distance from Friends and Family – In Bellevue my brother was only forty five minutes away.  We had great neighbors in Drew, Lori and Jeanine.   Cousins Ruth and Ralph were nearby.  Not to be dramatic, but we're on our own here.
Pine Trees – Have I mentioned that the house is surrounded by loads and loads of pine trees?  Hopefully they'll make it through the wind.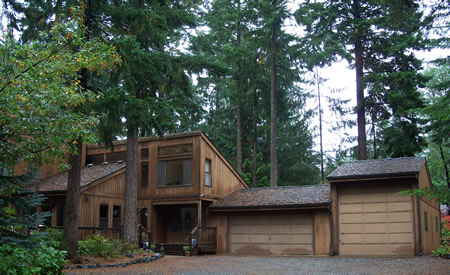 What I Worry About Less:
Power Lines – Our housing development has buried power lines.  In a windstorm that's a great place for power lines.
Newer House – This house is 30 years younger than our Bellevue house.  It's really well insulated and will hold the heat if we lose power.
We've Done This Before – We learned some valuable lessons back in 2006. We'll have gas, candles and cash.
Today's Plan
We're going to get gas.  I'm going to make bagels.  I'm going to charge my phone.  We'll make sure the candles are handy.
I'm also going to stay calm.  The weather is a tricky thing to predict.  As Jerome K. Jerome wrote:
I do think that, of all the silly, irritating tomfoolishness by which we are plagued, this "weather-forecast" fraud is about the most aggravating. It "forecasts" precisely what happened yesterday or the day before, and precisely the opposite of what is going to happen today.