Everyone on our street has cute, wooden boxes for their newspapers.  It's very rustic.  The wooden boxes have plastic liners to keep the papers dry.  That's very functional.  When we stared our subscription to the Peninsula Daily News we asked about getting a plastic liner for our newspaper box.  No problem we were told.  The newspaper gal would bring one for us when she brought our first newspaper.
Actually, there was a problem.  The liner, or "tube" as they call it, was about eight inches longer than the newspaper box.  It was not cute.  Our rental property is in a gated community.  There are rules here.  Rules designed to maintain the cute, forest-like nature of the development.  Would we get a knock on our door?  "Ma'am are you aware you've got a code violation going on at the street?"
Before that happened I called the newspaper again.  They said the newspaper delivery person would take a look at the situation.  She did. The next day we discovered the tube was gone.  However there was a note.  The note explained that there were no shorter tubes to be had.  However our paper would be fine in the cute, wooden newspaper box.
It was not fine.  Note the term "wooden".  Wooden as in porous.  While we were no longer in danger of violating any community ordinances, we had a subscription to a very damp newspaper.  We had to drape it over the dining room chairs to dry it out before we could read it.
It was obvious that we had to take matters into our own hands.  We went to the hardware store, ate some of their free popcorn and bought a length of four-inch plastic pipe.  When we got home the Man of the House combined that with some wood and some nails.  Then we had  the finished product.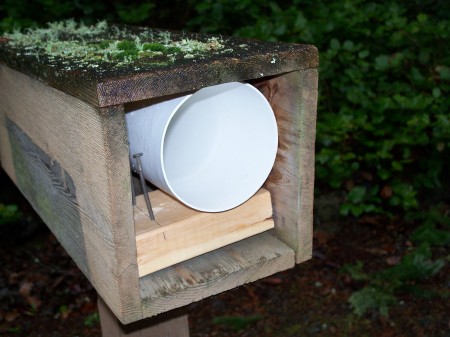 The wooden box still looks cute from the outside.  (Note the decorative moss on the top.) And our newspapers are dry.
Life is good.