When we lived in Bellevue we got our TV via satellite and watched it with the help of our very handy DVR.  The picture was great.  We had lots of channels.  The DVR made watching and recording TV shows a snap.
Then we moved to the forest.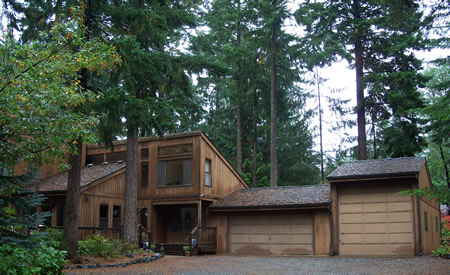 Because of the many, many trees surrounding our rental home we can no longer get a satellite signal.   We now have a three part system for watching TV.
Antenna – The rental house came with a working television antenna.  My family gave us converter boxes and we were set.  Because of the many, many trees we only get one channel reliably.  However it was enough to get the Man of the House through most of football season.
Hulu.com – Our Internet service is marginal, but it's just fast enough for us to watch TV on the Internet.  Hulu is where we watch most of our online TV.  We registered and told Hulu our favorite shows.  When there's a new episode it lets us know and provides a handy interface for watching the show.

The Man of the House is very handy and was able to link my laptop to the television set.  So even though we're watching TV via the Internet, we still view it on our television set.

Netflix – For $15.99 a month Netflix will send us two DVDs at a time.  When we lived in town,  we didn't go to many movies and we didn't have any premium channels.  So we're going a little wild with Netflix.  We've watched Deadwood, Julie & Julia, True Blood, Quantum of Solace and loads of other shows.They also have shows that you can watch instantly on the Internet.  So we link up my laptop and the TV and watch the Netflix shows on the big screen.   For instance, they have Lost available to watch instantly.  As the series winds up its final year it's been a pleasure to see season one again.
This works so well that when we find a house to buy we may not get satellite TV again.  As long as we've got a fast Internet connection and at least one live channel with football, we're good.