Just a Couple of Chickens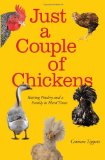 A few months ago Chef Ralph emailed me about a book I might like, Just a Couple of Chickens by Corinne Tippett.  As with most recommendations from Ralph, this was a good one.
The autobiographical book is partly a how-to manual, and sometimes a how-not-to manual, on raising poultry for eggs, feathers and profit.  I learned to buy heritage breed turkeys, not to mix different kinds of birds and was reminded that it's prudent to have a healthy fear of roosters.  I also felt vindicated about my dislike of geese.  They are evil, horrible creatures that are not to be trusted under any circumstances.
The book also tells the story of a family caught inside the real estate bubble when it popped.    The author's husband was a building contractor during the real estate boom.   I had a sick feeling in my stomach as I read about the disappearing jobs, high gas prices and the husband's reluctance to throw in the towel on his business.
Through it all there's humor and a nose to the grindstone attitude that makes this book a pleasure to read.   In life you can either laugh or cry.  Why not laugh?