Lawn Tractor Transmissions
We're learning a lot at our new place.  Stinging nettles really do sting.  (Our woods are full of them!)  Greenhouses can get amazingly hot.  (We've got a cover for it this year.)  And most lawn tractor transmissions are not built for a hill like we have.  The John Deere's transmission is showing a few signs of giving out.  The Man of the House barely got it back up the hill last month.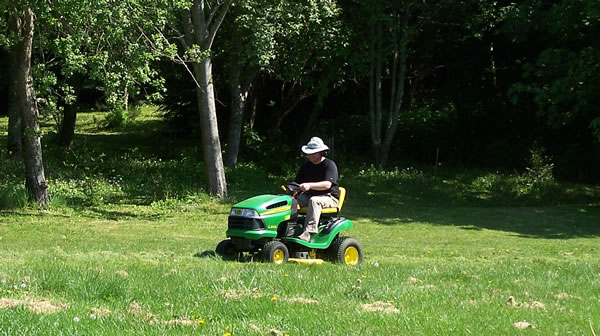 We've got about an acre and a half of lawn with most of that being a steep hill.  We'd been mowing it in two days.  The Man of the House would do the hilly parts in one day.  It takes him about four hours.  The next day I'd do the few flat parts and that would take about an hour.
Since the John Deere has started showing signs of distress it now gets royal treatment.  TMOTH now mows for about an hour and then takes a break.  It's not that he needs a rest.  He's giving the John Deere a rest.  So far so good.
Our plan is to nurse the John Deere through one more year and then get a lawn tractor better suited for our situation.  One of the ones we're thinking about is the Husqvarna GTH24K54.  It's a heck of a lot of money to spend, but then again we've got a heck of a hill.