Throwback Thursday – Homemade Window Cleaner
Today I was thinking about this recipe for Homemade Window Cleaner I posted in 2009. Why was I thinking about window cleaner?  The first reason is fairly practical.  My windows really, really need cleaning.  I've got that on my list of things to do for today.
But secondly, I love the photo that goes with the article.  It's of our yard in Bellevue.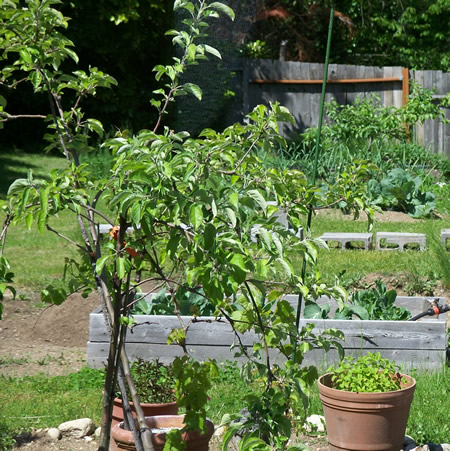 The photo shows our fruit trees in pots.  You can see the raised bed garden areas and the pots of herbs.  To me it looks busy, homey and wonderful.
I'm really, really happy at our new house but the yard looks pretty scruffy right now.  There are a million things to do and it seems that for every item we cross off our list there are two more added.  But I remember feeling that way in Bellevue too.  So I'm going to clean the windows today.  And sometime in the future I know I'll look out of those windows and see a place that looks busy, homey and wonderful.