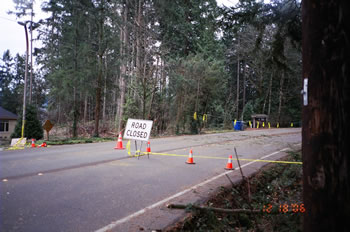 Last weekend was supposed to be a storm for the record books. Luckily it ended up being more of a regular autumn storm. Now that we've been working on this for a few years we have a good storm preparation list. Here's what we do when the storms are forecasted:
Food:
We stop buying perishables until the storm has passed.
The night before the storm we put sandwich condiments, cheese  and ice packs into a cooler. If the power goes out we don't open the refrigerator door. Instead we have everything we need in the cooler.
We make sure that we have the following on hand:

hard boiled eggs (I use this method –  long-cooked eggs)
cereal
canned milk for cereal and coffee
canned tuna, spam and chicken for sandwiches
bread
fruit that doesn't need to be refrigerated like apples, bananas or oranges
unopened beef log (summer sausage) – these are great because they don't need to be refrigerated until after they're opened.
To Do List:
Make sure all electronic items (including Kindles) are charged
Fill car gas tanks
Get some cash – In longer power outages we've seen stores open for business but only accepting cash.
We turn the heat in the house up a few extra degrees. That way if the power goes we're starting out with more heat.
We turn the settings on the freezers and refrigerators to a few degrees colder. That way if the power goes the food will last a little longer.
Freezers work more effectively when they're full. We add plastic jugs filled with water (be sure to leave some empty room for expansion) in the freezers to help them retain their temperatures if the power goes out.
We look around the house to see if there are items to be put away.  For this storm we took the chairs, tables and grill off the deck and put the hummingbird feeders in the garage.
Do all the laundry you can before the storm.
Wash all the dishes you can before the storm.
Check the batteries in the flashlights. Put the flashlights, candles and matches out where you can easily get at them.
Clean out gutters.
Our water system needs power to fill the water tank. It takes some time for the tank to run dry and we do have a generator system for it. Nonetheless, we like to have a few gallons of clean water just in case.