Riding Lawn Mowers and Tractors
One of the things The Man of the House (TMOTH) has been working on over the winter is maintaining our riding lawn mower, Jalapeño.
Here's a photo of Jalapeño from last summer.  Note the TerraGrips on her back wheels.  Those have made a world of difference in mowing our steep hill.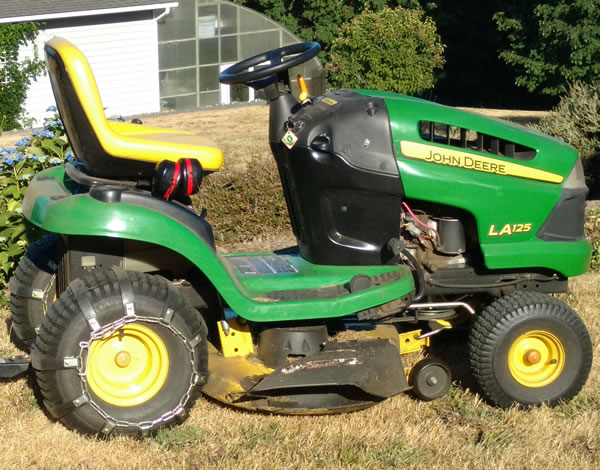 Jalapeño is a John Deere LA125. She sports a 42′ mowing deck and the transmission is a T40.  (TMOTH tells me that's a variant of the K46.)  She came with our house.  We think the former owner bought her in 2010.
Riding lawn mowers are expensive!  So keeping Jalapeño going is a huge benefit to our budget.
The terrain makes taking care of the riding lawn mower extra difficult.  First of all, there's over two acres of lawn to mow.  Secondly, we've got a heck of a hill!  Most mower transmissions just can't take the strain.
TMOTH has done things like:
serviced the transmission – This is a huge deal because the transmission was built not to be maintained.  (It's a sealed unit.)  However TMOTH is a canny guy.  He found instructions from the transmission's manufacturer on how to maintain it.
sharpened the mower blades
replaced one of the mower deck spindles
Disassembled the wheels to repack the front wheel bushings
The plan is to keep Jalapeño going as long as possible.  Plus, now that she has a name we're getting really attached to her.
However, we are thinking of the future.  That leads us to Ventrac mowers.  They're probably too much mower for us, but  . . . wow!  They can operate on a 30 degree slope!!
TMOTH discovered that Ventrac mowers used to be Steiner mowers.  The Steiner family sold the mower business.  Later, the Steiner family had second thoughts and restarted the business as Ventrac.
It's also interesting to note that there's a Steiner Tractor Parts.  They manufacture and sell new parts for old tractors. Is this related to the Steiner family that's now running Ventrac?  We don't know.
The reason this interests us is that if TMOTH can keep Jalapeño running for a number of years, we may take the money we're saving for a new riding lawn mower and buy a used tractor instead. (We're talking about a tractor from the 40s or 50s.) The ability to get parts opens up more possibilities for us.
With a tractor we could do things that require a 3-point hitch with a PTO.  That could give us access to a tiller, a wood chipper and a brush cutter.