Recently Cousin Adair mentioned something about garlic scape pesto.  Galic what?  Garlic scape pesto!
Evidently, the things that The Man of the House (TMOTH) and I have been composting every year can be turned into delicious pesto!
What are Garlic Scapes?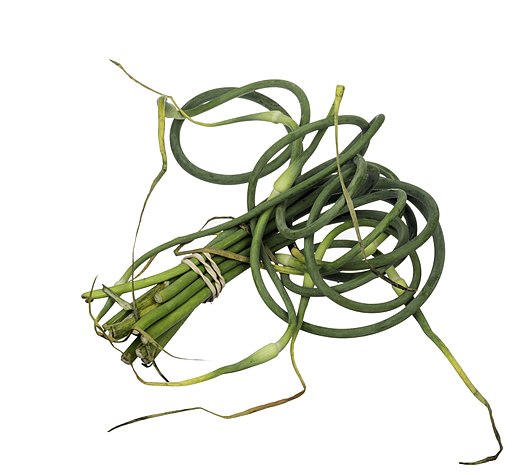 Garlic scapes are flower buds.  They're removed from the garlic plants to encourage them to make larger garlic bulbs.  In the past, we'd cut the scapes off and put them in the compost pile.
In the future, we're going to cut them off and save them for pesto!
Cousin Adair advises that you leave a few scapes in place.  She uses them to help determine when the garlic is ready to be harvested.
Preparing the Scapes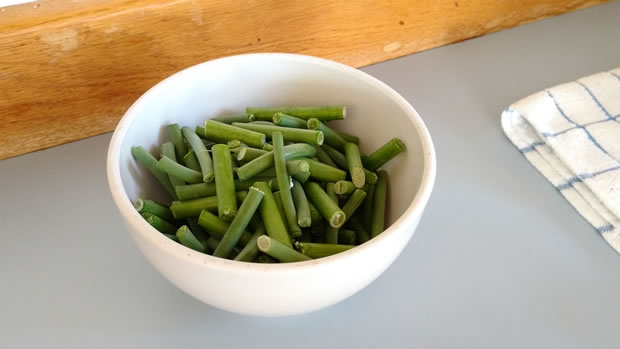 Wash the scapes.  Keep only from the bulb on down.  Discard the rest.
Cut the scapes into pieces.
A Word About Pine Nuts
Expensive!  Pine nuts are expensive!  They're typically used in pesto recipes, but I wanted a less expensive alternative.
I tried both sliced almonds and chopped walnuts.  I liked the batches with the almonds better, but only marginally so.  Either nut will work fine for this recipe.
Ingredients for Garlic Scape Pesto
154g Garlic scapes, trimmed and cut into pieces
1/3 C sliced almonds (you can also use chopped walnuts)
1/3 C grated Parmesan
1½ Tablespoon lemon juice
pinch of salt
pinch of pepper
1/3 C Olive oil
Instructions
You'll need a food processor for this recipe.  I have a 3-cup machine and the recipe fits perfectly in it.
Add the garlic scapes to the food processor first.  Carefully even them out so that they're level in the bowl.
Add the rest of the ingredients except the olive oil.  Pulse the mixture until the scapes begin to break down.
Add the olive oil in 3 to 4 batches, running the machine in between and scraping down the sides as needed.  Keep going until the scapes are totally broken down and everything is mixed.  This will all take about 1 to 2 minutes.
In the end, this is how the pesto will look.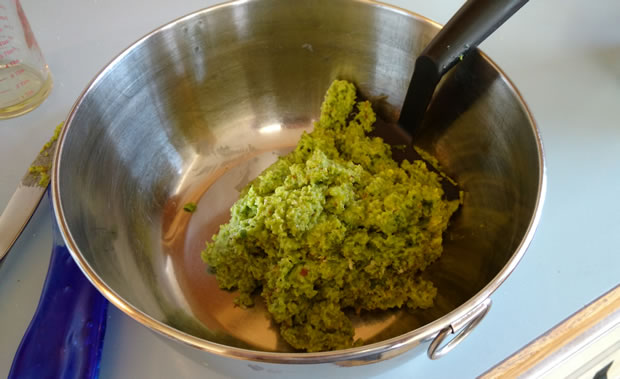 Put into a covered container and store in the refrigerator.  It'll keep for about a week.  You can also store it in the freezer.
How To Use Garlic Scape Pesto
We added some to pasta salad.  TMOTH added it to mayonnaise to make a flavored sandwich spread.
Cousin Adair uses it on garlic toast.  She also adds it to recipes to give them some extra zip.  For example, she's used it in homemade chicken soup.
However, my favorite use for it so far is to make pesto pasta!
Using Garlic Scape Pesto on Pasta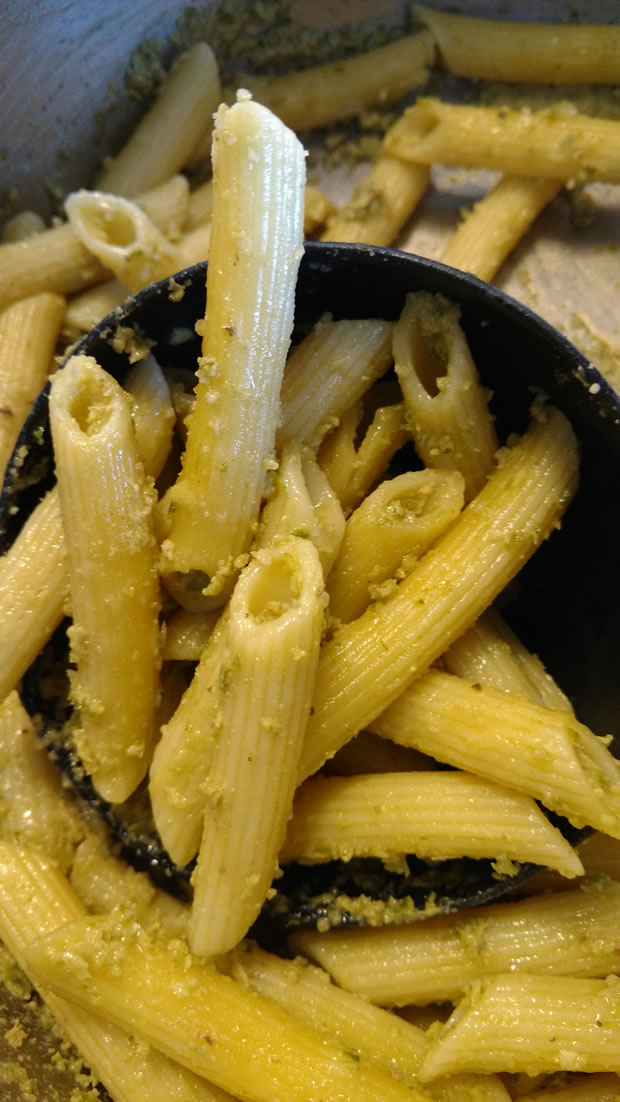 Cook one pound of pasta.
When you drain the pasta, reserve one cup of the pasta water.
Put 2/3 cup of pesto in a bowl.  Add and mix in the pasta water 1/4 cup at a time until you get the desired consistency.  I usually hit the sweet spot at about 1/2 cup of pasta water.
Add the pesto/water mixture to the pasta.  Stir. Serve with grated Parmesan on top.
This pasta along with a green salad and a heated kielbasa make a great meal.  It's quick to put together and is even good for date night.