Junior's Last Stand or The Tale of a Lemon Tree
Years ago one of my neighbors gave me a lemon tree. She no longer had room in her house for it. (I live in the Seattle area. Lemon trees can be placed outside in the summer but have to come back inside during the winter.) I, on the other hand, had a nice sunny window that would suit the plant perfectly. I cleverly named it Lemon Tree or LT for short.
I put LT in my sunny window and he thrived. He had wonderful leaves. I always came away smelling like a lemon after taking care of him. Periodically LT had flowers. I've always read that lemon trees have flowers with a heavenly aroma. LT didn't make flowers like that. While his leaves smelled wonderful his flowers were just plain stinky! Not only that, but LT never produced any fruit. I even took Q-Tips and mucked around in LT's stink flowers trying to pollinate them. Nothing.
One winter it got too cold for LT at my house so he moved to live with the Man of the House. (This was before TMOTH and I took up joint housekeeping.) TMOTH took a cutting off of LT and it grew. I named the cutting Junior. (Did I mention how clever I am with names?)
About the time The Man of The House was growing Junior we noticed that LT wasn't looking so good. His leaves were turning yellow and he was sticky. It was as though someone had spilled honey on him. Lemon Tree had scale.
Scale insects are parasites that suck the sap out of plants. The sticky stuff is called honey-dew. That's a nice name for the excrement of scale insects. Yuck! By the time we figured out what the problem was it was too late for LT. He didn't make it.
That brings us to Junior. He's a few years old now and he's in his second round of scale. None of our other plants have ever had scale. What's up with these lemon trees? Is Junior even a lemon tree? Where's the sweet smelling flowers? Where are the lemons?
We've gotten rid of the scale on Junior before or at least we thought we had. It's a lot of work. It's a lot of work for a plant that's only giving us stink flowers and no fruit. So this is Junior's last stand. In the fall he can come back inside the house if:
1 – The scale is gone
2 – He's grown a lemon or any other kind of fruit. (Hey if Junior turns out a papaya that's OK with us. He's just got to be productive!)
If both of these conditions haven't been met then Junior's not coming in the house. Instead he'll be heading for the compost pile.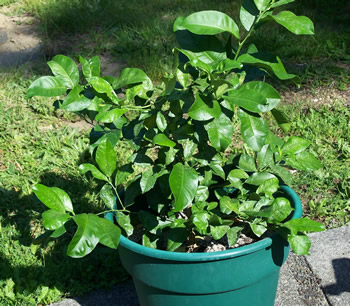 Junior the lemon tree – Stay tuned for his treatment plan and the results.

Information on Scale:
http://www.ipm.iastate.edu/ipm/hortnews/1995/11-10-1995/scale.html
http://en.wikipedia.org/wiki/Scale_insect