The Little House Cookbook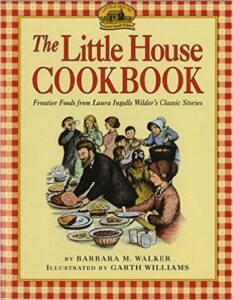 I just read a copy of The Little House Cookbook: Frontier Foods from Laura Ingalls Wilder's Classic Stories
. The book gives recipes for items mentioned in the Little House books such as corn dodgers, molasses-on-snow candy and sour-dough biscuits. It also explains how to make your own vinegar, what pioneer kitchens were like and what basic ingredients were available to cooks of that time.
The author stresses that she's tried very hard to make these recipes accurate. The book describes how things were done with what the Ingalls and Wilder families had on hand. It made me feel very lucky for what we have today. Although I'd love to try making my own vinegar it's nice to know that I don't have to. It's also a luxury to worry about eating a healthy diet. The book makes it plain that in the good old days you worried about having enough to eat. You didn't worry about your carbs.
The book is a treasure its life lessons as well as the recipes.