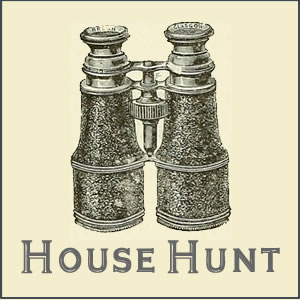 Earlier this week The Man of the House and I looked at some undeveloped property. We've talked about buying land and buying a house for awhile. But this was our first time up close and personal with (Gulp!) the land.
We looked at two lots. One had a cell tower in the corner of the property that no one had ever mentioned. I'm not moving to the country so I can live next door to a cell tower! That put that piece of property out of the running.
The second lot had a great view. However the trees that will grow up to block the view are on another chunk of property. The view will eventually be gone. Also although it was a five acre parcel the only flat area was a predetermined building site. The rest of it was unusable because of the steep slopes.
So neither of these pieces of property worked out. The good news is that when we came face to face with the land we didn't flinch or freak out. Yes, we'd have to put in sewer, power and drill a well. Yes, it would take a year or more to get everything worked out. None of that phased us. The thrill of having enough room to do the things we've dreamed about was much more present than the fear.
We weren't even upset by the possible isolation. Some of the areas we're looking in are 10 or 20 miles away from even a small grocery store. Starbucks? Forget about it. We've talked about it and that's OK. I have aunts and uncles that live like that and don't think a thing about it.  We can do it too.
I think we're on the right track.