Pizza On The Grill – We Did It!
Back in July I wrote about cooking pizza on the barbecue grill.  We gave it try last month.  While cooking pizza on the grill sounds a little odd it actually turned out quite well.
The Man of the House is in charge of our monthly pizza nights.  For this experiment, just as he always does, he started out with dough from the bread machine.  He rolled the dough out into three rounds of manageable sizes.
He cooked each of the three pizzas one at a time.  The first step was to put the dough on the grill.  Our fear was that it would droop through the bars on the grill but it held its shape nicely.  He brushed the top with olive oil.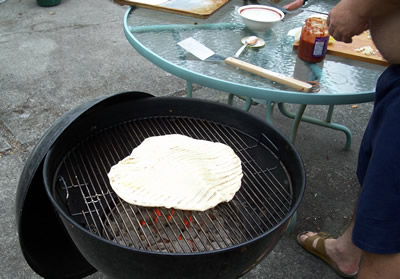 When the dough was lightly browned TMOTH flipped it using two pancake turners.  Then he quickly added the pizza toppings.  Since the dough doesn't take long to cook you've got to be pretty snappy about adding those toppings.  Then he covered the grill to help melt the cheese.
The end result was very good.  The crust was nice and crispy.  The cheese wasn't  as melted as much as we usually like but we're going to work on that next time.
Even though The Man of the House had to cook the pizzas one at a time the total cooking time was much less than our usual method.
This is definitely something we're going to try again.   Our plan for this month's pizza is to put it on the menu.  On pizza day TMOTH will decide on the cooking method.